John Gronlund 1927 – 2011
John Gronlund passed away on Thursday, March 24, 2011 in Mt. Vernon. He was Worshipful Master of Lakeside Lodge 258 in 1999. He was born in Seattle, Washington on August 18, 1927.
His Masonic career began in 1982, when he was initiated at Lakeside Lodge 258 in 1982 and his Master Mason degree in 1983. He was the owner of a construction company specializing in distressed properties, and was a consultant to many municipalities. This experience lead him to service within the Grand Lodge and other Masonic bodies, soon after his term as Master, as a member of committees, boards, etc. where people would take advantage of his wise counsel and talents.
He was the Potentate of Nile Shrine in 1995, some years after he had joined the Masonic fraternity. Many potentates sought his wise counsel also during their respective terms. Soon after his term as Master, he was called upon to serve on the Grand Lodge Finance Committee until his death, and also was on the Grand Lodge Masonic Retirement Center Board for many years.
He was also serving on the DeMolay Foundation at the time of his death. He was preceded in death by his wife of many years, Aase.
---
Robert Swartz Mitten December 20, 1937 – August 01, 2010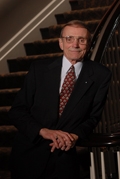 Service: August 17, 2010
Robert Swartz Mitten was born December 20, 1937, in Dover, Delaware, the son of William Brinkley Mitten, Sr. and Regina Susana Swartz Mitten. He graduated from Dover High School in 1955. He attended Kiskiminetas Springs School, the University of Arizona, and the University of Delaware Extension School until 1962, and during this time served in the U.S. Army National Guard for six months active duty, receiving an honorable discharge in 1966. That year he moved to Columbus, Ohio, to work for the Food and Fixtures Company, where he rose to the position of Senior District Manager of the Burger Boy Food-O-Ramas subsidiary. In 1969 he moved to Bellevue, Washington, to serve as production manager and part owner of the Marine Systems Division of Martronics Corporation. In 1974, he took a position as sales manager for Wilderman Refrigeration Co. of Seattle, where he remained until 1988. That year, he became full-time caretaker for his sister Regina, who was incapacitated by cancer, until her death in 1999. Subsequent to that he filled a number of temporary and part-time positions until he returned to Wilderman Refrigeration in 2006 as operations manager.
Bob was also active in the Unity Church of Bellevue, where he served as a volunteer coordinator, and he was also active in Dr. Warner's cancer support group during his sister' s illness. He continued with them following his own diagnosis of the cancer that would eventually take his life on August 1, 2010. Bob was initiated an Entered Apprentice Mason on March 10, 1959, passed to the degree of a Fellowcraft Mason on April 28, 1959, and raised to the Sublime Degree of a Master Mason on June 9, 1959 all at Union Lodge #7 A. F. & A.M. in Dover. He affiliated with Lakeside Lodge #258 in Bellevue on October 14, 1974 and became Worshipful Master of Lakeside in 1983. Bob was also a member of Lakeside's sister lodge, Tsawwassen Lodge #185, in Ladner, BC. On March 29, 2009 he was awarded the Grand Masters Achievement pin and in the same year was awarded a 50 year pin of service to Masonry.
In addition to his volunteer work with the church, the Cancer Support Group, and his lodges, Bob was also an avid outdoorsman, enjoying such activities as hunting, geocaching, and hiking. Most of all, he will be remembered as one who gave his time and boundless energies to anyone who needed his help, and yet was reluctant to ask or even accept help himself. He believed strongly in the power of a positive attitude, which he maintained throughout his illness, to the point that many of his friends and lodge brothers remained unaware of his condition until he became debilitated near the end of his life. Those who knew him can surely say that his memory remains to inspire us to live respected and die regretted. Bob was preceded in death by his mother and father, a sister, Regina Marshall, and two brothers, William B. Mitten, Jr., and Matthew E. Mitten, Sr. He is survived by two sisters-in-law, Jean E. Mitten and Lorna E. Mitten, as well as six nephews and five nieces.